Hey, I'm BAAAACCCKKK!
Yes, almost after a 'YEAR'; I'm finally posting something on my blog.
Initially, I was planning to make a come back with my Sephora Appreciation Sale Haul, but I had already posted about it on my Instagram stories and due to rainy weather wasn't able to take some pictures with the swatches of the products. I'll be posting my Sephora Haul soon anyways.
Anyways, the important thing is I'm back and my first post after a loooonnnngggg break is about Makeup.
Let's start with a short background story.
I was never into makeup. Yes, no one believes me after witnessing my obsession over it but IT'S TRUE. When my Mother- in-law at the time of my wedding (almost 5 yrs ago) asked me to send her a list of the makeup items I want; I was completely blank and had to ask my Khala (mother's sister) for help. I had no idea what Sephora was. I only knew about MAC and Clinique and gave a list of 6 mac lipsticks, 2 mac lipliners, a mac blush and my foundation match from Clinique. And did I mention that I had no Idea what foundation was and the variety of lipstick finishes. Yes, I was a novice.
My makeup obsession started after my Shadi (marriage). After my wedding, I went back to Saudi Arabia and joined work and after few weeks of joining work, there were new hires. So, my new colleagues were into makeup and that's how I got into it and started watching You Tube. Interesting story na?
Back in 2014, Too Faced Chocolate Bar Palette and Urban Decay Naked Palettes were all the talk in the makeup communities. I used to obsess over Chocolate Bar Palette. Mainly, because every one used to say it smells like actual chocolate and then the color scheme of the palette was pleasing and eye catching compared to the Naked palettes. Don't you think so?
Moving forward to year 2015, I ordered very first eyeshadow palette of my life -the famous "Chocolate bar Palette". Even though, I could have gone to a Sephora store but I preferred to order it from a Facebook page – Limited Editions; might be that I ordered few other makeup items that weren't sold in Saudi Arabia at that time.
My Chocolate Bar palette was delivered to me at my office😊. And obviously, my colleagues were aware of my then obsession over this palette, so they were also excited about it (at least that's what I like to think from their reactions :p).
As soon as I got it, we took it out and smelled it to see if the claims were true. Yes, it did smell like chocolate. One of my colleague's- Afifa, also took the picture of my famous "Chocolate Bar" palette from her new iPhone.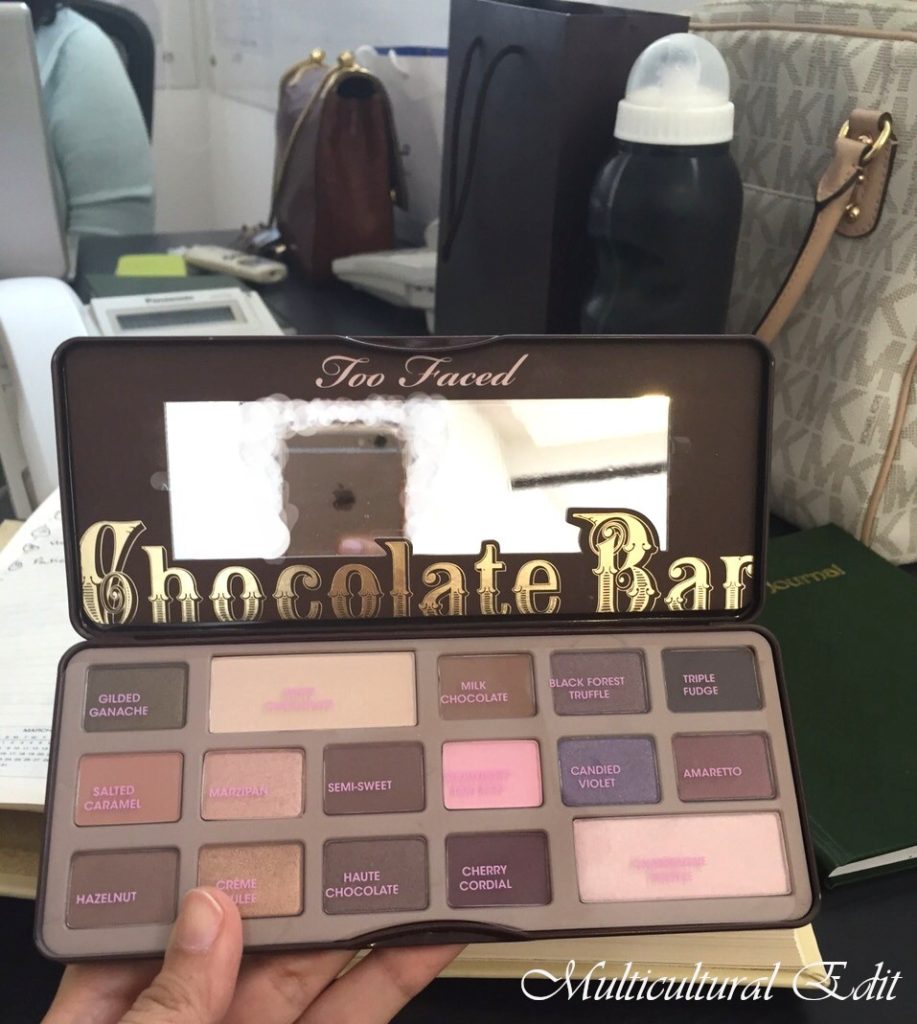 Not only this, me and my other colleague – Abeer, sneaked into an empty office corner; where she did my eye makeup using the palette. And after that my colleague with the brand-new iPhone took this amazing picture of the eye makeup. I know many of you must be thinking of us as unethical but in my defense our office environment was very friendly and our manager was amazing. Also, we always used to complete our work on time.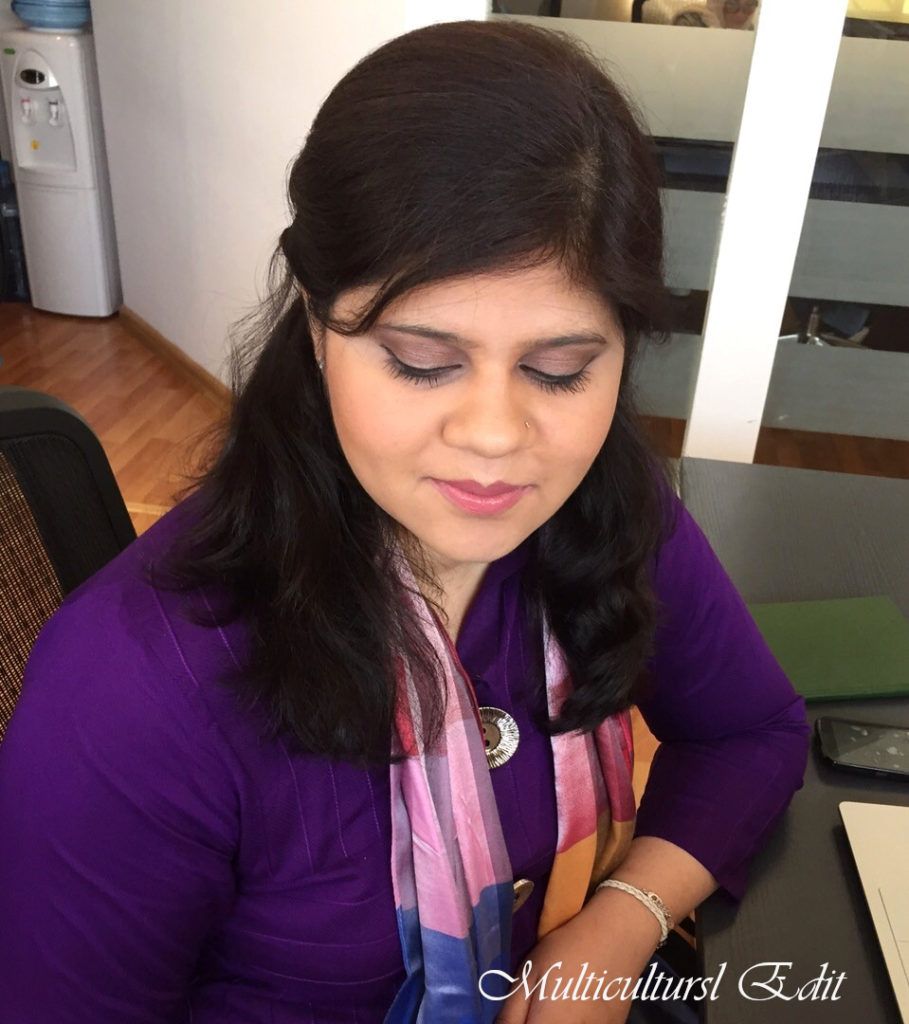 The shadows aren't showing as much in the picture because:
We didn't use any primer.
I was at work, duh.
Overview:
The "Chocolate Bar" palette is one of the first neutral warm toned eye shadow palettes. Too Faced nailed it with introducing a chocolate bar shaped and smelling palette. Moreover, the eye shadows are formulated with real coco powder. Isn't it AMAZING? No, you can not eat it.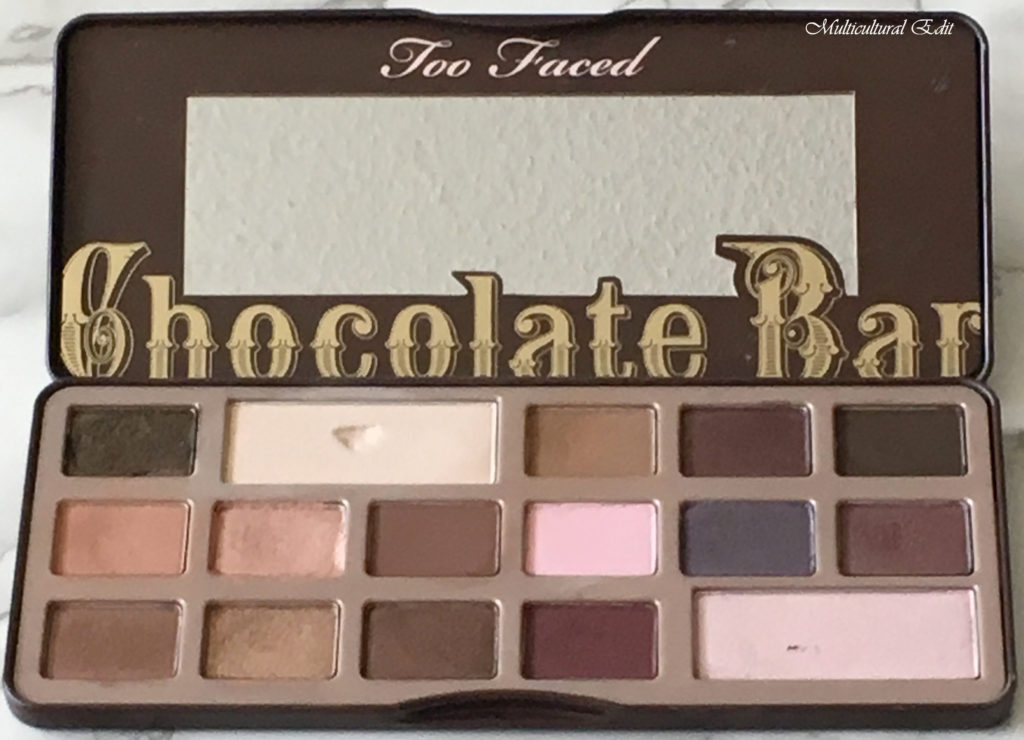 This is one of those neutral warm tone eye shadow palettes that you need to have in your collection. It has amazing 16 eye shades that can be used by its self and along with other palettes. Also, you can create variety of day and night looks (including smokey eye).
Below are the swatches of some of the shadows from the palette. The shades are not extremely pigmented but they are build-able.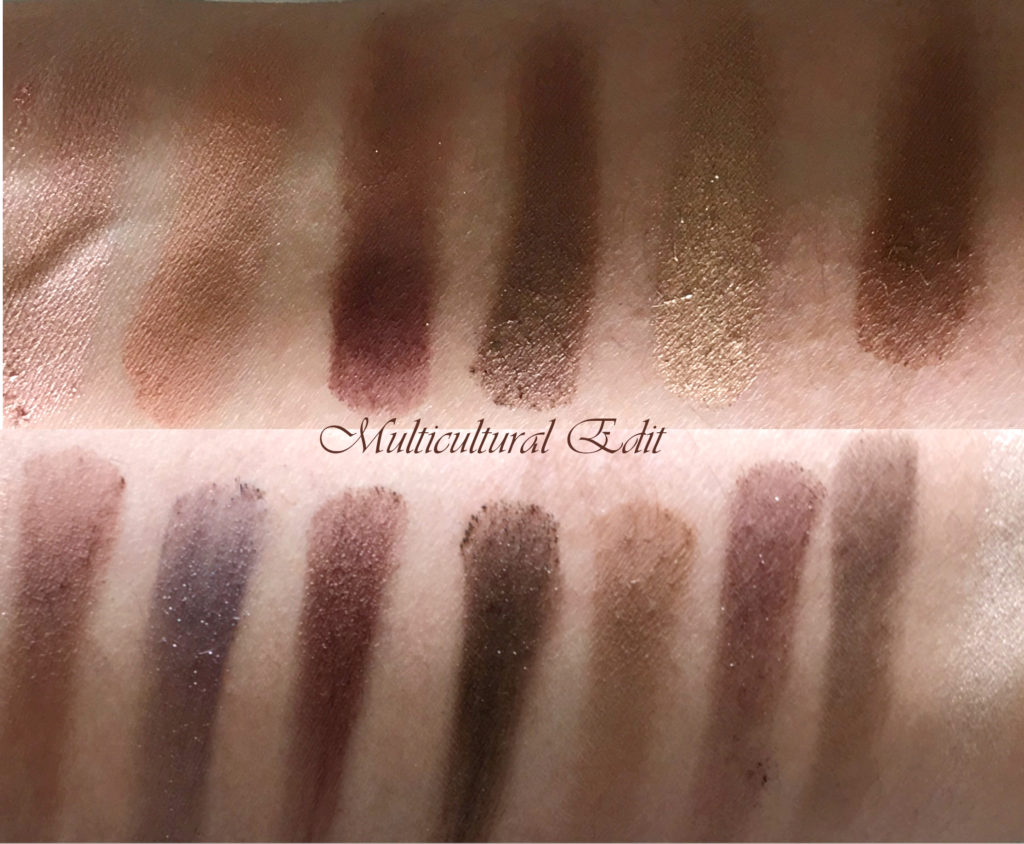 If you are new to makeup and are looking for your very first high end palette and you are also a chocolate lover then the "Chocolate Bar" palette is the palette to go for, as it has a perfect combination of mattes, satins and shimmer eye shadows.
Hope you enjoyed the post. Do share in comments below about your first eyeshadow palette and when did you get into makeup?
Have a nice day and much love <3, xoxo.