Hello everyone,
Finally, the day has come, when I am posting my very first blog post. I am very excited but nervous at the same time. It has been a long process to get this post up. I know, it seems so easy and simple but once you actually start working on it, you realize how complicated it is.
Isn't it perfect to share my very first "Sephora Sale Haul" as the "First Blog Post"? I had planned to upload my first post several times in last 2 months but wasn't happy with the draft of the actual first post and then it got delayed. Therefore, I feel like this haul is the perfect opportunity to finally start my blog. Even though I had planned to post something non-makeup related as my first post but I guess my obsession for make-up came first.
Most of my family and close friends are very well aware of my love for make up and in fact it was one of my friend that actually motivated me to use my passion in a positive way and start a blog. So, here I am doing just that.
By the way, this blog is not only about makeup/cosmetics, Sephora, Ulta etc. I'll be sharing other interesting stuff related to food, travel, home decor etc. too in the future. So stay tuned and enjoy. 🙂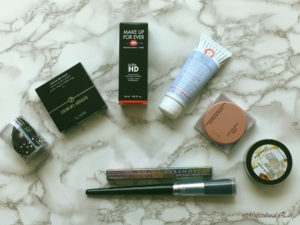 Any ways, last week there was huge sale in Sephora. Everything was 15% off for VIB & VIB rouge members and 10% of for Beauty Insiders. This sale only happens twice in a year. Even though it's been a little over a year since I moved to U.S, but I never got a chance to check out these Sephora sales. This was my first experience and I was very excited, since I recently became a VIB member and had been saving up for this sale. Hence, a huge damage was done. Also, while reading the content below keep in mind I got 15% off as a VIB member.
I knew that the sale was going to be sometime in April. So, I started making a mental list and 2 days before the sale, I made a short trip to Sephora to check out all the products I had in my list and also get my self matched to any foundations, powders, concealers etc. I made this trip because during the sales time it gets very chaotic in the store and also, because of the lighting in Sephora, your in store matched foundation and concealer shade is 90% of the time wrong.
So, just a little tip from me, always try it in store and also get a sample of the foundation, primer & concealer you are planning to purchase. This way you can easily check the shade in normal day light and can also see if the product suites your skin. Foundations and Primers are big investments and they are expensive.
I'll list the links to all the items mentioned below at the end of this post.
The first thing on my list was Makeup Forever ultra HD foundation. I have recommended this foundation to so many people but never got it for myself. I had tried the sample of this foundation twice and had a good experience. Also, everyone who have used this foundation loves and raves about it. Therefore, this foundation was the first thing on my wish list.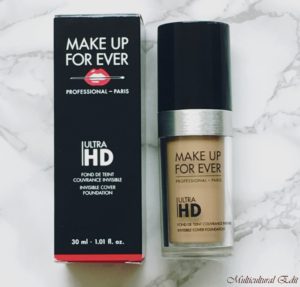 This MUFE foundation is amazing. It doesn't only looks good and flawless in pictures but also looks amazing in real. This is the type of foundation that gives you that natural flawless look. It is light weight and medium coverage, which is build able. Even after building it up, it doesn't cake or set into your fine lines. The best thing about this is that it's for all skin types( except for extremely oily skin, maybe). If you are looking for a good high- end foundation, in the reasonable high – end price range, then go for this foundation. It also comes in a stick form. I am in the shade Y315.
The next item on my list was the Giorgio Armani Luminous Silk Foundation Powder. I wanted to get a finishing powder, especially for summer. As the weather of Maryland gets quite humid at times and my skin becomes a bit more oily. I normally have combination skin. I have used MAC's mineralized powder and that was really good. But this time I wanted to try something different and since majority of the YouTube beauty gurus raved about this powder in their Year 2016 favorites, therefore it also became part of my wish list.Well, this was my 2nd reason to purchase it.
My first reason was to complete my Giorgio Armani Luminous Silk Foundation collection. LOL ;). I know, that's crazy but hey, I was getting 15% off and yes, I even bought the Giorgio Armani Luminous Silk Liquid Foundation as a discounted item. Sephora sent me a 15$ off coupon in the beginning of this year and I used it to get the foundation . Now, judge how much you want but I am not sorry.
See, as I've already mentioned above these sales are the best time to splurge on foundations and other expensive items. Plus, MUFE ultra HD foundation and Giorgio Armani powder foundation combined, after applying 15% off coupon costed me less than $100. Hence, I got a good deal and I am proud of my smart and forward thinking (giving myself a pat at the back).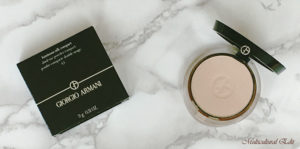 Giorgio Armani Luminous Silk Foundation in both liquid and powder form is aaaahhhhmaaazzziiinnnngggg. Here, I'll only share my thoughts on the powder, since its part of the haul. The shade range of powder foundation isn't as wide as the Luminous Silk liquid foundation but you can definitely find your match in the limited shade range, for e.g, I am shade 5.75 in Liquid but in powder I am shade 4.5. The texture of the powder is so silky and smooth and the coverage is very sheer. The coverage also depends on the type of brush you are using to apply it. The denser the brush, the sheerer the coverage. I have applied it with both dense,fluffy powder brush and tapered powder brush. And the look with both is flawless. This powder doesn't cake-up or emphasize your dry patches. Again, highly recommended.

This is SEPHORA COLLECTION PRO Precision Powder Brush #59. I got this brush for applying setting powders. I did use it once with the Giorgio Armani powder and it did a good job of applying. Because of its tapered shape it picks up a lot of product. This brush is best for applying under eye setting powders. It has mixed reviews on Sephora's website but it was the most recommended brush from all the Sephora sales agents and I also tried it in the store and liked the feel of it. Therefore, I bought it.

If you are looking for a long staying, smooth, no smudge, waterproof pencil eyeliner then Urban Decay 24/7 glide on eye pencil is going to be your best friend. This eyeliner is the best in market. No matter, how much watery eyes you have, it won't budge. It comes in 35 different colors. I got the color 'Perversion'. It is a deep black matte color and one of their most selling colors in this line.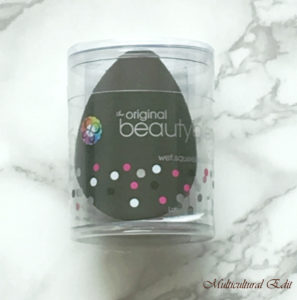 Beauty blender or makeup sponge in general, is a must have make up tool in every one's vanity. I bought it in black color this time, thinking that it wont show too much dirt and would last longer. Not that I don't clean my beauty blender. I clean my beauty blender after every time I apply makeup but after several washes the foundation and concealer stains don't leave. So, I thought maybe the black color would help.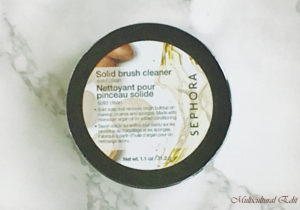 As mentioned above, I clean my beauty blender after every makeup application. Also, I try to clean my brushes almost every week. I am about to run out of Sephora solid brush cleaner, so got a new one. This lasts for good 4-5 months and is very gentle on the brush. The best thing about this brush cleaner is that it comes with a small pink brush cleaning pad.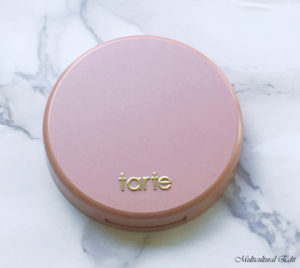 I have been in long search of a nude blush that would look natural and last long at the same time. I love tarte products and especially it's blushes are my favorite. Tarte's amazonian clay blushes claim to last for 12 hrs on your skin, which is true.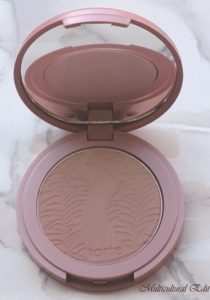 I got the shade 'Exposed'. It is very pigmented but at the same time looks pretty natural. Moreover, when applied with the Nars Laguna bronzer, it gives that sun kissed bronze nude look on the cheeks.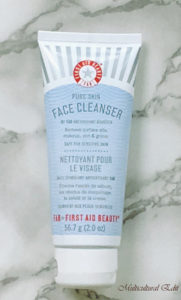 I got a delux sample of the First Aid Beauty Facial cleanser as a Beauty Insider 100 points award. After using it for couple of days, I really liked it. It is very gentle on the skin and you have to use the tiniest bit to wash your face. Moreover, I found that it removes the makeup residue very well. So, I purchased a bigger tube. And mind you, it's very economical, meaning in the same range as other drug store cleansers.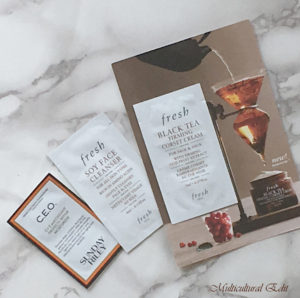 At the checkout, they were giving VIB and VIB rouge member tote bags ( I forgot to take the picture) and 3 skin care samples. I am excited to use the Fresh black tea mask and cleanser and Sunday Riley moisturizer. I have heard and read good reviews about both the skin care lines. I'll give you guys my feedback after using them.
I am really happy and content with my Sephora purchase. Love each and every item.
Products Mentioned:
Disclaimer: All the links mentioned above are non- affiliate links.